Leopold "Leo" Fitz
Comments

45
313pages on
this wiki

Leopold "Leo" Fitz is a weapons and technology expert and engineer working for S.H.I.E.L.D..
Biography
Edit
Early Life
Edit
A genius engineer, Leo Fitz went to the S.H.I.E.L.D. training academy with his best friend, Biochem genius Jemma Simmons. Among their instructors were Professor Vaughn and Professor Hall, who taught chemical kinetics during their second year.
Sometime after college, Jemma dragged Fitz into going on a field assignment.
Field Work
Edit
Leo and Jemma were recruited by agent Phil Coulson to be the science crew for a new team he was putting together. Stationed on the Bus, the pair have designed specialized equipment and compounds on the fly in various emergency situations.
Their first foray into the field involved the case of Michael Peterson, a man in danger of exploding due to his use of the volatile Centipede formula. Peterson was saved in part by Fitz's efforts to create a Centipede counter-agent for Peterson.
Fitz faced danger in the field in Peru, where the team was investigating an 0-8-4. Fitz and the team escaped Peruvian rebels only to face an armed takeover of the Bus. Working with the team, he helped take back the Bus and secure the old HYDRA weapon.
Soon afterwards, Jemma Simmons was infected by a Chitauri helmet virus. He tried extremely hard to find an antidote, and he did in the end, but Jemma didn't know. Jemma hit Fitz on the back of the head with a fire extinguisher so she could jump from the 'Bus' to save the others, without Fitz following her. Fitz tried to parachute after her, but Grant Ward beat him to it. Fitz showed remorse that he wasn't the one to rescue Jemma after the events. Nevertheless Jemma thanks him and kisses him on the cheek.
Fitz went into the field with Ward afterwards. The mission was to destroy a weapon called the "Overkill Device " that was able to make weapons go off on great distance. However, there was no extraction plan. Fitz proved his bravery in this episode over and over, ultimately helping Ward fight their enemies. Coulson and the rest of the team evacuated Fitz and Ward once they did their job.
In the wake of their very near-death experience at the hands of Ward in the final episodes of Season One, Fitz is alive, but nothing much more, to judge by Simmons's state and statements to the reformed S.H.I.E.L.D. team at the Playground.
Personality
Edit
Leo is socially awkward, but despite his awkwardness, he gets along remarkably well with his research partner, Jemma Simmons. It seems that he is either jealous when he sees Jemma with another guy or very protective of her. He remains convinced that Ward can be 'recovered' long after the rest of the team consider him irredeemable. He is somewhat clumsy and awkward around Skye and, sometimes Simmons.
Physical Appearance
Edit
Fitz is a Caucasian male with curly brownish blond hair, he has blue eyes and is about 5'8". He mostly wears sweaters, overcoats, jackets, cardigans, ties, flannel shirts, and jeans.
Abilities
Edit
Leo is a brilliant engineer. He is a weapons/technology specialist, making gadgets to help agents in the field. He has the ability to read a machine very quickly, enabling him to dismantle and rework machine parts immediately. Fitz can also speak with a flawless American accent, an ability useful for undercover operations for a native Scot. [1]
Inventions
Edit
"Pilot"

"I'm engineering, she's bio-chem."
―Fitz
Fitz: "So, uh, uh, when... When you get back, I'll show you my thing. A thing. It's not-- I-It's my hardware. My equipment! Let's... hang up."
Simmons: "You wanna make something awkward, copy Fitz."
―Leo Fitz and Jemma Simmons
"0-8-4"

Fitz: "Are you mental? I did explain in great detail what I meant using the Queen's bloody English!"
Grant: "I use normal English. Words like "duck" and "run" and "might blow us to pieces.""
Fitz: "Oh, wow! Well, congratulations, Agent Ward. You managed to string three words together in a sentence."
―Fitz and Grant Ward
Jemma Simmons: "I thought she was done for, but she just sweet-talked her way into Quinn's office."
Melinda May: "How'd she manage that?"
Leo Fitz: "Pfft, she probably just used her, um...uh...uh...her, uh... uh, boobs."
―Simmons, May and Fitz discussing Skye
"FZZT"

Phil Coulson: "Any idea what could cause an effect like this?"
Jemma Simmons: "There's the soliton hypothesis-"
Leo Fitz: "Well, okay, judging by the horizontal-"
Jemma Simmons: "Perhaps nano-batteries-"
Leo Fitz: "...electrical discharge could be-"
Phil Coulson: "Time. Let's try again. Any idea what could cause an effect like this?"
Jemma Simmons: "Hell if I know."
Leo Fitz: "Uh, no, no clue."
―Coulson tries to get an answer from Fitz and Simmons
Phil Coulson: "What's Fitz doing over there?"
Jemma Simmons: "He detected a strange energy coming off the body."
Phil Coulson: "He's afraid of it, isn't he?"
Leo Fitz: "It's the smell."
Jemma Simmons: "There's no shame in it, Fitz! It's perfectly natural to be afraid."
Leo Fitz: "No, the only thing I'm afraid of is putrid decaying flesh corrupting my pristine workspace. (Jemma rolls her eyes) Do you remember the last time you brought a dead thing into the lab?"
Jemma Simmons: "Oh, not the stupid cat again."
Leo Fitz: "The cat, tell him about the cat!"
Jemma Simmons: "And it's our lab, not yours!"
Leo Fitz: "You left its liver next to my lunch!"
Phil Coulson: "Guys! Can we please...?"
―Coulson listens to Fitz and Simmons bring up old grievances
"The Hub"

Ward: "(Disables an enemy and sees more arriving) Fitz! More Border Patrol!"
Fitz: "(Already out of the truck and running) I'm already moving! HURRY UP!"
―Grant Ward and Leo Fitz on a mission
Fitz: "Good day to be a rat. I mean, there you are, minding your own business, spreading filth and disease, scavenging for grub worms or rotten fruit. When lo and behold, you see it… a prosciutto and buffalo mozzarella sandwich."
Ward: "Fitz."
Fitz: "With just a hint of pesto aioli."
Grant: "Quiet."
―Fitz mourns his lost sandwich
"The Well"

Ward: "Don't say I never gave you anything."
Fitz: "Checking for alien spectrographic signatures one teeny rock at a time."
Ward: "Necessary precaution. We don't want anything alien getting in the wrong hands."
Fitz: "Still, this is definitely the type of work a monkey could easily do."
Ward: "You're our little monkey."
―Grant Ward and Leo Fitz while cleaning Greenwich University
"Seeds"

Fitz: "Is Science & Technology what you imagined, Agent Ward?"
Ward: "Yep--no uniforms, no rope course, no defined muscularity on anyone."
Fitz: "No marching in place, no IQs in double digits."
―Rivalry of the S.H.I.E.L.D. Academies
Skye: "...and Fitz looks younger than us."
Fitz: "Time will come when you won't make fun of me for that. You'll be jealous. You'll be jealous wrinkly old hags."
―Skye and Fitz while at S.H.I.E.L.D. Academy
"Just allow me these rare moments of self-pity, okay? You're the least supportive pretend girlfriend I've ever had."
―Fitz, to Skye
Skye: "Fitz, have you ever heard of an 0-8-4 being a person?"
Fitz: "No, but I suppose it's possible. I'd hate to meet the guy."
―Skye fishes for information from Fitz
"Yes Men"

Sif: "She bends and shapes the will of men for her own purposes."
May: "Only men. Her powers don't work on women?"
Sif: "No. Men have an inherent weakness we do not share."
Fitz: "I can't imagine what she's talking about."
―Sif, Melinda May and Leo Fitz discuss Lorelei
Garrett: "Impressive toy."
Fitz: "I prefer the term "hard-tech hardware.""
―John Garrett and Leo Fitz
"The Only Light in the Darkness"

Ward: "Everything is falling apart around us. We don't know how it'll end. If there's something you want to tell her, don't wait."
Fitz: "Maybe Simmons should check you again for a head injury... 'cause that's not the Ward that I know."
Ward: "You know what? Do what you want. I don't care."
Fitz: "Good to have you back."
―Grant Ward and Fitz, about Simmons
"Ah, yeah. Well, my mum always said that you shouldn't be afraid because it's just like the way life was before you were born which wasn't that bad, was it?"
―Fitz to Simmons
Relationships
Edit
Etymology
Edit
Leopold: "Bold among the people," or "Bold".
Fitz: "Son of" (in the sense of an acknowledged bastard, rather than a legitimate child).
Appearances
Edit
His current ID badge serial number is A 0947329; the card was issued on 5 February 2013, and will expire on 5 February 2018.
His favorite sandwich is prosciutto and buffalo mozzarella with a hint of Simmons's homemade pesto aioli. (The Hub)
Fitz-Simmons named their eight flying gadgets after Snow White and Seven Dwarfs. 00 is Snow White, 01 is Doc, 02 is Sleepy, 03 is Grumpy, 04 is Bashful, 05 is Sneezy, 06 is Happy (07, presumably Dopey, hasn't yet appeared on screen). (0-8-4) 
It is likely that Fitz watches the BBC TV show Doctor Who, seeing as during the episode The Hub, a miniature TARDIS (the time traveling device used by the main character of Doctor Who) can be spotted in the background as he is packing his backpack and talking to Simmons.
Leo's real name is revealed to be Leopold. (Seeds)
While being interrogated with the lie detector, Koenig asks him to say the first thing that comes into his mind to be in the box he found on a deserted island and he answers Simmons. (The Only Light in the Darkness)
He claims he wouldn't know what to do if Simmons was HYDRA. (Nothing Personal)
Fitz designed a device called a "Mouse Hole" in order to help agents cut an escape route through any material, though it was not mass-produced shortly after submitting it for approval. ("Turn, Turn, Turn")  A version of the Mouse Hole cutter was used by Nick Fury himself in Captain America: The Winter Soldier, aiding him in escaping from an overturned SUV.
Fitz believed Ward would never betray them willingly, no matter how accusing the evidence found were. (Ragtag)
Fitz seems to have a small obsession with monkeys, an obsession which is shared by the actor who portrays him. (0-8-4)
Fitz is getting bolder with each passing episode, willing to stand up to Garrett twice now, after being asked to join HYDRA (Turn, Turn, Turn) and telling Garrett he wants to be a big part in his downfall and after using the EMP to fry his Deathlok system (Ragtag).
He finally admits to Simmons he's in love with her. (Beginning of the End)
He suffered an undetermined amount of brain damage due to being without oxygen for too long. (Beginning of the End)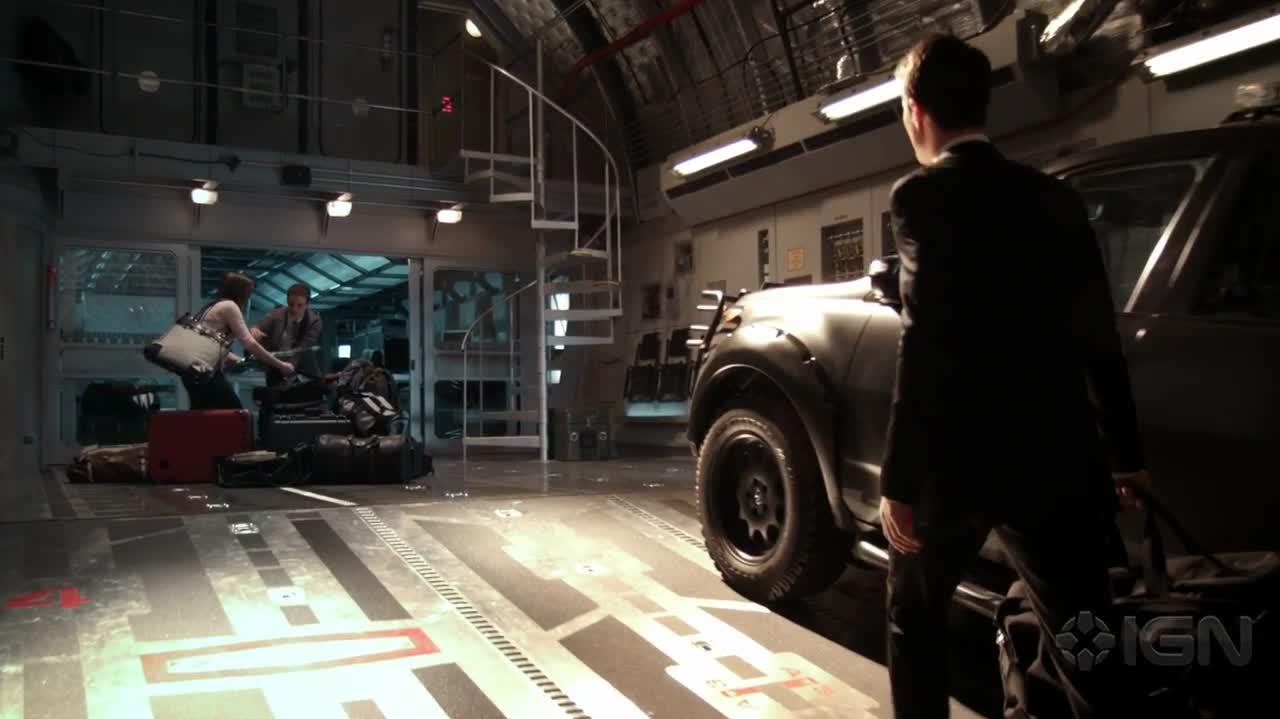 References
Edit